Our white label digital marketing outsourcing program/referral option is perfect for those who want a trusted partner to help grow their clients visibility.
You want to give your customers the best digital marketing services possible. But, you can't always do it on your own. Every once and a while you need a little extra help.
What Spokes Digital Does
And that's why Spokes Digital is here: to provide you with any and all digital marketing partner programs you need. Our partner services include:
Our reseller plan options are always created around your needs. We can provide the above mentioned services as a white label silent partner or we can provide them directly to your clients via a referral service. Both are highly effective.

White Label Services- An Opportunity to Help Clients and Grow Your Business
Using our white label services gives you the amazing opportunity to help clients and grow your business—without doing any work. Because we work on the backend, you get to take all the credit for our expert services.

You also get to sit back and relax while we create a detailed report that you can show your clients. In the end, you and your clients will be in a great position to achieve digital success.
Reseller Programs- Help Your Clients While Making Easy Money
Our reseller programs are simple: you send us a client and we send you money 10-20% of our invoice. Easy enough. But, there's more….. We also give you a 10-20% check for your monthly maintenance clients. And, we include you in all client communications.

Our digital marketing outsourcing programs are a bit different than our white label ones, but the concept and end result are the same—your clients get helped and you make money. It's a win-win situation.
How do I become a partner?
We've helped countless developers, designers, agencies, and freelancers with our digital marketing partner program. You can be next. All you have to do is fill out the provided form and wait for your check.

If you have any questions please don't hesitate to email us at innovate@spokesdigital.us or click here to contact us.
Let's ride together! With this digital marketing white label reseller option your clients will not even know we exist (if you don't want them to). Some partners even go as far as including us on conference calls and email exchanges.

With this marketing outsourcing program, we get busy behind the scenes executing all the digital marketing work and crafting the strategy for you. You can then present the final product to your client. We will handle all strategy, execution, and reporting so you don't have to worry about anything!
This option is ideal for you if you:
If white label is not your thing the other option is a referral process. The client or lead simply gets sent over to us and in return you receive a referral fee for all work invoiced. If it is a onetime project you get a onetime check consisting of 10-20% of invoice amount.

If it is a monthly maintenance project you will get a check every month (recurring revenue!). Just to show you how honest we are we'll even include you on all client correspondence in regards to pricing negotiations – Nobody in this industry does that.
This option is ideal for you if you:
Your Monthly Deliverables
Custom Strategy
During the first month of an ongoing digital marketing campaign we'll craft the strategy first. This is important so everyone is on the same page when we start. We do this so you can visualize everything that will be happening, and to also have a "basecamp" location were everything is recorded. All user names, passwords, link locations and notes will be stored on this document and updated each month.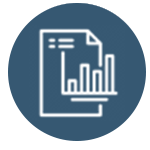 Monthly Reporting
Depending on what we are doing and what we are tracking you and your client will also receive ongoing reporting of analytics where it applies.

We think it's important to see how things are progressing.
Analytics Data
If it is a service centered around traffic building we'll provide the numbers each month.

We need to see what's working and what isn't.
A Dedicated Person
Communication will be a very important part of our growing partnership.

You will have a dedicated person for all correspondence to ensure everyone is on the same page.
We are 100% transparent! No client is left in the dark. You know what we're doing at all times.
Our Perfomance Marketing services are proven. Just read through the numerous case studies on our site.

We are a quality vs. quantity agency who provides the attention you need to make an impact.

We are results driven! We constantly adjust to make sure you see the growth you're looking for.